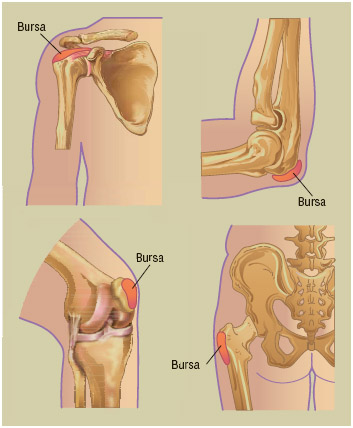 At Coastal Natural Therapies we work with patients who are currently suffering from all sorts of physical pain ailments. Regardless of whether they were attained through injury or old age, we always strive to ensure our patients receive high quality treatment that leaves them with a better quality of life.
We work hard at ensuring we don't just treat the symptoms but look deeper to find the root cause of the ailment or injury and individualise the treatment to suit your needs and unique circumstance.
We often see patients who suffer from bursitis within our clinic, however it is not common that most know about the condition.
What is Bursitis?
Bursitis is the inflammation of a bursa within the body. A bursa is the fluid-filled sac that sits around joints within the body. Bursa's act as a cushion and helps to glide the bone and soft tissue and reduce friction within joints.
Inflammation generally occurs at the larger joints such as shoulders, elbows, hips and knees. Bursitis is not a life-long disease and can be treated, it is often a temporary condition.
What are the symptoms of Bursitis?
Some of the common symptoms that occur when an individual is suffering from bursitis are:
Pain at the inflamed joint
Localised tenderness
Limited motion in the inflamed joint
Stiffness
Swelling and redness of the joint (if it is closer to the surface of the skin)
What can cause Bursitis?
Often bursitis occurs due to the joint being overused or have performed frequent repetitive movements. Injury or infection can also cause the bursa to inflame causing bursitis.
Other issues that could also cause bursitis are arthritis, gout, tendonitis, diabetes, or thyroid disease.
How can you prevent Bursitis?
Make sure to be warming up and cooling down whenever doing physical exercise
When doing new exercises or sport, start slowly and gradually increase the demand you put on your body
Take frequent breaks when completing repetitive and laborious tasks
Where possible, cushion joints with elbows or knee pads when completing activities
Stop doing a physical task or activity when you feel pain
What is the treatment for Bursitis?
There are a few different treatment methods available to treat patients with bursitis:
R.I.C.E. = Rest. Ice. Compression. and Elevation.
Anti-inflammatory pain medicines – i.e. ibuprofen or aspirin
Antibiotics
Acupuncture treatments, Myotherapy treatments or Chinese Herbs
Other conventional medicine practices referred by your GP
How can Acupuncture and Myotherapy help with Bursitis?
Acupuncture can help alleviate the symptoms associated with bursitis and work towards healing the root cause of the issue. Studies have found that acupuncture improved symptoms of those patients suffering with bursitis. Myotherapy will aim to target and trigger the areas that are in pain to release and relieve any tension or pain in the area. At Coastal Natural Therapies we have a track record of assisting those to relieve their pain in either muscles, joints or injury driven ailments. We look at the bigger picture and help you make progress towards your improved overall health and wellbeing.
Our Acupuncturists and Myotherapist are highly qualified and experienced practitioners who look forward to seeing you in the clinic soon. Book your appointment online today or give our friendly reception staff a call on 07 5531 6461 to answer any questions or queries you may have.
References –
Bursitis. (2021). Retrieved 5 November 2021, from https://www.hopkinsmedicine.org/health/conditions-and-diseases/bursitis
The Observation of Clinical Curative Effect of Treating Bursitis in Shoulder with Acupuncture by Pricking Shoulder Pain Point–《Chinese Archives of Traditional Chinese Medicine》2007年02期. (2021). Retrieved 5 November 2021, from https://en.cnki.com.cn/Article_en/CJFDTotal-ZYHS200702040.htm