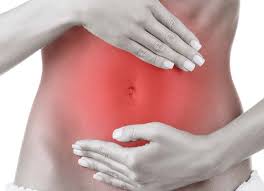 This March we recognise Endometriosis. Did you know?
Endometriosis affects 1 in 10 women worldwide! That's approx. 200 million women!
What exactly is endometriosis?
Endometriosis is the abnormal growth of cells that form in the lining of the uterus. As these do not get expelled during the menstrual cycle, they continue to respond to the hormonal changes, which control menstruation, elsewhere in the body. These cells build up each month and then break down and bleed. The blood has no way to leave the body and accumulates, being absorbed through the surrounding tissue, which can be very painful.
Growths of endometrial tissue outside the uterine cavity mostly occur on the ovaries, the fallopian tubes, urinary bladder, bowel, pelvis floor and/or peritoneum. As months pass, scar tissue and adhesions can form. This causes extreme pain in subsequent pregnancies as the uterus enlarges and the organs within the abdomen are pushed into different positions.
Endometriosis may cause symptoms such as:
Pain in the uterus
Low back
Pain during intercourse
Excessive bleeding
Passing of clots
Nausea & vomiting
Constipation
Dysuria (pain when urinating)
Infertility
Iron deficiency can also be a side affect due to the high blood loss.
Some nutritional considerations:
Increase dietary soluble fibre such as apples, pears, lentils, quinoa, whole grains, oats, nuts, chia and flax seeds. Whilst assisting with digestion they also help the body to expel excess hormones.
Ensure adequate iron intake – dark green leafy veggies, beans and pulses, brown rice, eggs and good quality lean meats and fish.
Eat more essential fatty acids (EFAs) – Chia seeds, flax seeds, pumpkin seeds and oily fish (cold fish such as mackerel, wild salmon). EFAs assist in controlling inflammation, aid tissue healing and prostaglandin production.
Limit processed foods, fried foods, refined sugars, processed meats, alcohol and caffeine as these foods & drinks can encourage inflammation in the body.
What can I do?
Endometriosis awareness month is designed to raise awareness, educate and raise money to ensure more research can be done. We want to keep the talk going & ensure no one is suffering in silence.
On the 25th March there will be High Teas throughout Australia (including the Gold Coast) with special guest speakers discussing this topic.
To find out more click here.
Alternatively, if you would like to speak to a practitioner and make an appointment, please call us on 5531 6461.