At Coastal Natural Therapies on the Gold Coast, our multi-modality clinic can assist our patients in the relief of symptoms related to fibromyalgia.
Fibromyalgia is a syndrome often characterized by diffuse pain with fatigue, sleeping poorly, emotional distress and stiffness. People with fibromyalgia often find their symptoms change over time. The symptoms may be worse during times of psychological, social or physical stress. (2)
As the pain is not fixed and varied in position and severity, it is often hard to diagnose, as multiple factors can also trigger the onset, including weather, diet, drugs, hormones or stress. Research has also seen high incidence to hypersensitivity in the vagus nerve, which triggers the gut and heart, thereby producing symptoms of autonomic dysfunction.
Using a combination of Acupuncture, Myotherapy and/or Naturopathy can be effective in managing your condition.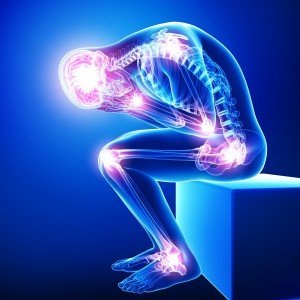 Acupuncture can be helpful in  fibromyalgia by effectively turning off and turning down the nervous system. It can also act as a vasodilator, assist with pain relief (1) and increase nerve conduction. Weekly treatment would be advised for 4-6 weeks before reassessing.
Remedial massage & myotherapy can be beneficial to assist in pain management and muscle stiffness. Spinal injury or damage is often a trigger to symptoms of fibromyalgia, and those with rotational jobs such as nurses, teachers etc are often particularly susceptible.
What else could help?
Exercise has been shown to help with pain, start slowly & build yourself up. Combine aerobic, strength and flexibility exercises.
Rest when you need. Pushing through the day when you are in pain or having a bad day will not help. Take the time out your body is asking for! We need rest to repair.
Eat more colourful vegetables (full of anti oxidants), good fats (Avocado, extra virgin olive oil, raw nuts and seeds), and avoid pre-packaged/refined foods. Having a good diet can help with weight management and help with inflammation.
Flower essence may assist with addressing your anxiety and stress, which in turn may help with sleep issues.
If you would like to speak with any member of our team to discuss your symptoms, please call us to make an appointment on 5531 6461 or alternatively you can book online here.
References:
McDonald J, Janz S. The Acupuncture Evidence Project: A Comparative Literature Review (Revised edition). Brisbane: Australian Acupuncture and Chinese Medicine Association Ltd; 2017. http://www.acupuncture.org.au.
Health Direct (2017), Fibromyalgia [online], Available at: https://www.healthdirect.gov.au/fibromyalgia
Correa-Rodríguez M., et al. Mediterranean diet, Body Composition, and Activity Associated With Bone Health in Women with Fibromyalgia Syndrome. 2019. Available at: https://www.ncbi.nlm.nih.gov/pubmed/30939528