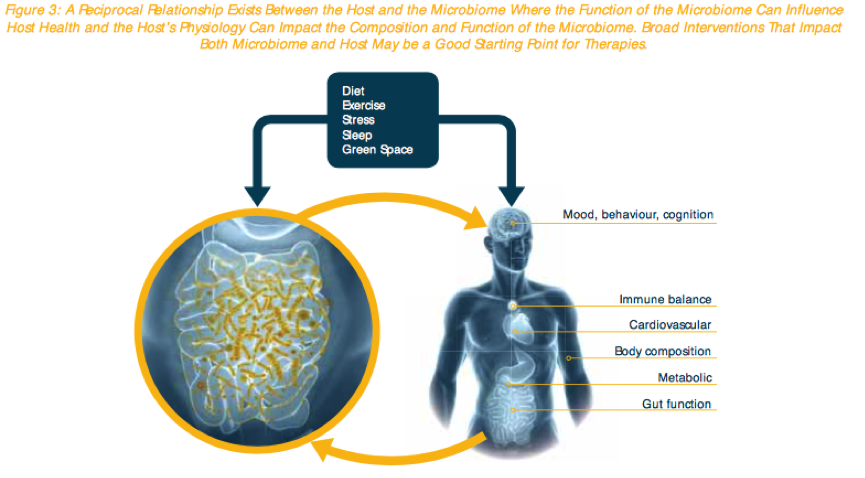 (7)
2000 years ago Hippocrates said 'all disease begins in the gut' and this has been something that natural medicine practitioners have always supported and now the research is beginning to back up this hypothesis too. The question is, did the disease disrupt the microbiome or was the microbiome disrupted initially, causing the disease?
Altered composition of microbiome has been seen in patients with depression, showing reduced diversity and greater serum lipopolysaccharide (LPS) levels when compared to healthy controls (1,2). In a study on germ-free mice, depressive symptoms were observed after colonizing them with a dysbiotic microbiome. Another germ-free group were colonized with microbiome from healthy control humans and their behaviour remained unchanged, concluding that microbiome can impact mood (3).
Diet and exercise has also been shown to play a key role in the composition and diversity of the microbiome. When overweight subjects were given an exercise regime and set on a low calorie diet an improvement in their gut microbiome was seen (4). Similarly, when overweight patients were given a high fibre, low calorie diet, there was improvement not only in their metabolic health but also an increased diversity of microbiome (5).
With the western diet considered low in microbiota-accessible carbohydrates due to decreased output of short-chain fatty acids, it is still unknown how the long-term effects will influence gut mucus depletion, barrier function and inflammation (6).
It is still to be determined whether dysbiosis is a consequence or cause of systemic disease, however treating from a holistic viewpoint allows both the host and microbiome to be targeted. By adapting the diet, increasing exercise and minimising stress there is a link to improved microbiome diversity and health, which in turn benefits the host (7).
Maes M, Kubera M, Leunis JC, Berk M. Increased IgA and IgM responses against gut commensals in chronic depression: further evidence for increased bacterial translocation or leaky gut. J Affect Disord. 2012 Dec 1;141(1):55-62.

Zheng P, Zeng B, Zhou C, Liu M, Fang Z, Xu X, Zeng L, Chen J, Fan S, Du X, Zhang X, Yang D, Yang Y, Meng H, Li W, Melgiri ND, Licinio J, Wei H, Xie P. Gut microbiome remodeling induces depressive-like behaviors through a pathway mediated by the host's metabolism. Mol Psychiatry. 2016 Jun;21(6):786-96.

Kelly JR, Borre Y, O' Brien C, Patterson E, El Aidy S, Deane J, Kennedy PJ, Beers S, Scott K, Moloney G, Hoban AE, Scott L, Fitzgerald P, Ross P, Stanton C, Clarke G, Cryan JF, Dinan TG. Transferring the blues: Depression-associated gut microbiota induces neurobehavioural changes in the rat. J Psychiatr Res. 2016 Nov;82:109-18.

Santacruz A, et al. Interplay between weight loss and gut microbiota composition in overweight adolescents. Obesity (Silver Spring). 2009 Oct;17(10):1906-15.

Cotillard A, et al. Dietary intervention impact on gut microbial gene richness. Nature. 2013 29;500(7464):585-8

Sonnenburg ED, Sonnenburg JL. Starving our microbial self: the deleterious consequences of a diet deficient in microbiota-accessible carbohydrates. Cell Metab. 2014 Nov 4;20(5):779-86.

Knight R. The Human Microbiome: A Big Picture View of Our Numerous Tiny Symbionts. Metagenics International Congress on Natural Medicine, 2017.